Subscribe to RSS feed or get email updates.

Sugar: A Bittersweet History, by Elizabeth Abbott, from Amazon.com or Amazon UK
...instead of being obtainable only in the shops of apothecaries, who kept it for the sick, as before, sugar is now eaten for appetite alone. That which was once a remedy now serves as food.
Ortelius writing in 1572, quoted by Maguelonne Toussaint-Samat in A History of Food
...prosperous [Dutch, colonial era] families usually displayed a few pieces of Holland-made silver ... perhaps a sugar box with two compartments, one for lumps and one for powdered sugar.
Edwin Tunis, Colonial Living

Bittersweet: The Story of Sugar, by Peter Macinnis, from Amazon.com or Amazon UK
Sugar cutters & nippers
Nips, nippers, cutters, tongs - handling loaf sugar, lump sugar, cones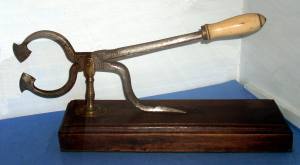 Until Victorian inventors figured out a way to get sugar to the grocer's shop in ready-to-use granulated form, it was always transported in large cone-shaped sugar loaves. (See below) Households could buy a whole sugar loaf or a lump broken off and sold by weight. But then what? How did people prepare it for kitchen and dining table? Sugar nippers were an important part of the answer.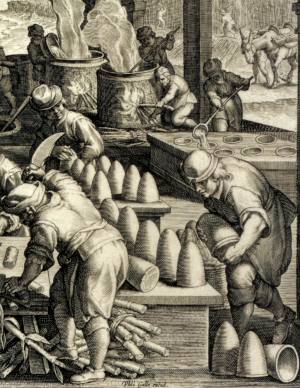 Sugar nippers were basic household tools, but before using them you would probably cut the hard whitish cone into smaller chunks with a hammer and chisel. The nippers were sometimes on a stand (see top right) so you could put all your strength into forcing the cutting blades through the pieces of sugar-loaf. If they had no stand, the better ones had a piece that stuck out at right angles (third picture down on right), and was used to steady the sugar nippers against the edge of the kitchen table, while you gripped and squeezed.
It is always a bad plan to buy sugar by the pound, for the paper is weighed in with every pound. To break loaf sugar into small pieces ready for the nippers, use an iron hammer and cleaver; a wooden mallet chips, and the particles of wood become so incorporated with the sugar-dust, that it is difficult to separate it.
Family Magazine or Monthly Abstract of General Knowledge, 1837, USA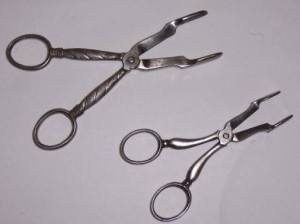 This was heavy work, producing lumps and crumbs that could be used in the kitchen. For the dining-room and tea table you needed to nip the sugar into neat lumps. This was sometimes seen as a job for the mistress of the house, especially before 1800 when refined sugar was expensive and often kept in locked boxes, like precious tea leaves in lockable tea caddies. Smaller steel sugar nippers (see "scissors" right) were good for this work.
A pair of sugar-nippers are indispensable, for breaking small the loaf-sugar, after it has been cracked with a stout knife and a mallet or hammer. It should then be kept in a closely covered tin or wooden box, There should be a box also for brown sugar.
Miss Leslie's Lady's House-Book, 1850, Philadelphia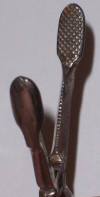 At first glance these look as if they may just be tongs for lifting sugar-lumps into a tea-cup, but look more closely at them, including the picture taken from a different angle (left), and you can see they are tough enough to grip and break hard sugar too. (After corresponding with the writer Leslie What, who kindly let me use her pictures of these central European smaller sugar nippers, I realise that some languages use the same word both for "lifting" tongs, and for "cutting" nippers, pincers etc. - e.g. German.)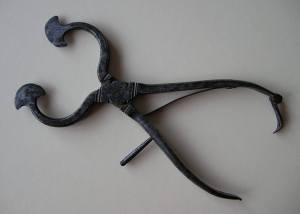 When powdered sugar was called for in a recipe, the cook had to use a mortar and pestle, or possibly a spice-mill. Some sugar-boxes had compartments for powdered sugar alongside the lumps. Finely sifted sugar could also be used in a caster, or sprinkler. Tongs, boxes, and casters were all made in fine silver for the wealthy, but there were a lot of plain iron nippers and wooden sugar boxes too.
Loaf Sugar should be well pounded, and then sifted through a fine sieve.
Isabella Beeton, Book of Household Management, 1861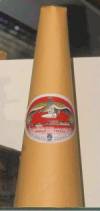 The cone-shaped sugar loaf was such a common sight until the later 19th century that everyone knew what it looked like. Mountains and hats were named after it. Even the paper it was wrapped in played a part in domestic life. Most sugar loaves sourced from the Americas were wrapped in blue indigo paper which was recycled as a source of dye for yarn or cloth. The Finnish sugar loaf in the picture obviously has a different kind of wrapping.
The whiter the sugar, the more elegant, desirable and expensive it was. In medieval times, sugar was brought to Europe from the near East. For a long time it was an expensive luxury sold in tiny quantities alongside spices. It was used for medicinal purposes or special concoctions cooked for the nobility. By 1600 when the picture of sugar-making above was published, sugar was becoming a little more available. The cone-shaped moulds for the loaves had holes in the bottom so the dark treacly syrup from a mess of boiled sugar-cane could drain out. This didn't leave perfectly white sugar in the mould, and "double-refining" was used to produce a better grade of refined white sugar. Extra ingredients were used to encourage whitening and purification - from clay to bullocks' blood.

Georgian Silver Sugar Tongs of the Period 1760-1820, by Graham Hodges, from Amazon.com or Amazon UK


See also:
17th century sugar-loaf scissors or nips (Scroll down)
Cone-shaped sugar loaves in the 21st century

14 May 2009
You may like our new sister site Home Things Past where you'll find articles about antiques, vintage kitchen stuff, crafts, and other things to do with home life in the past. There's space for comments and discussion too. Please do take a look and add your thoughts. (Comments don't appear instantly.)
For sources please refer to the books page, and/or the excerpts quoted on the pages of this website, and note that many links lead to museum sites. Feel free to ask if you're looking for a specific reference - feedback is always welcome anyway. Unfortunately, it's not possible to help you with queries about prices or valuation.