Subscribe to RSS feed or get email updates.
A new Churn, says the New York Tribune, has appeared, which, we believe, will give greater satisfaction than any of its almost innumerable predecessors. Heretofore we have found no substitute for the old hard-working but effective dasher churn; but one has, we think, at last been invented. This new churn will make more and better butter from a given quantity of cream than any other we have ever seen, and in a reasonable time, usually less than half an hour. Nor has it any machinery to adjust or keep in order, and nothing but a plain, smooth barrel, inside and out, to keep clean. A child can fill it, churn it, empty it, wash it, with less strength than it takes to lift a bucket of water. It has no dasher, but is simply a plain barrel, of any required size, hung upon iron pivots in a frame, and made to revolve end over end by a crank, the cream dashing back and forth. One end of the barrel is made movable and convenient to take off, and is fastened on by a thumb-screw, air tight. After the cream is put in and the cover fastened down, a small air-pump is attached, and the barrel charged with air, and then revolved. Without attempting a reason, we will say that this aerifying has a remarkable and beneficial effect upon the cream, and apparently improves the quantity and quality of the butter.
Annual of Scientific Discovery: or Year-book of Facts in Science and Art for 1861
End over end churning
Butter made without dashers, plungers or paddles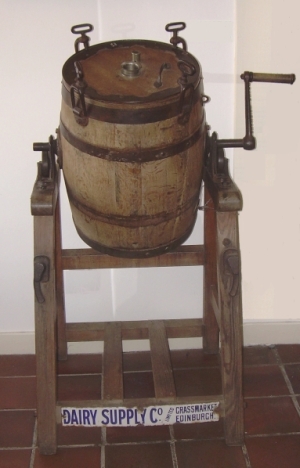 If you shake cream in a jar with a tight lid for a long time you can make butter. If you half-fill a barrel hung on a handle, like the one in the photo, seal it, then flip it over and over, you may get the job done in less than half an hour. About 40 turns of the handle every minute is said to be a good rate for best results. Check through the glass peephole in the lid and see if the butter's made.
The little inspection window on top is characteristic of late 19th century churns of this kind from the UK. Some makers gave their models striking names: like the Shakespearian [sic] made by Hathaway of Chippenham. Many added a plug-hole at the bottom of the barrel where you could drain out the buttermilk.
On the other side of the Atlantic, American inventors seem to have concentrated on developing better-fitting churn lids rather than spy-holes. The "improved" churn pictured below left was patented in 1879 after about 20 years of end-over-end churning. In 1861 the end-over design was described as "new". (See left-hand column.)
Swinging and rocking makes cream into butter
Churns like these were straightforward, and many models were suitable for small family farms. Like "rocker" churns they had no internal paddles to go wrong or need cleaning. Although they seemed like a modern innovation that could replace up-and-down dash or plunge churns, they echoed even older methods of making butter: methods which kept the liquid moving without using any sticks or beaters.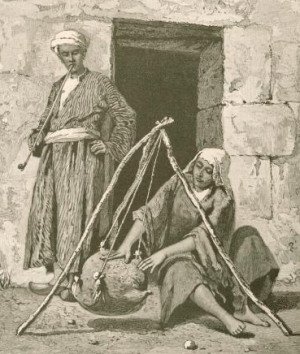 If you don't have a dash churn with a churn-staff or dasher, you can swing the butter in an animal skin tied from a branch or simple frame, as in the Victorian picture to the right. The text accompanying it said:
The churn is made of the tanned skin of a goat stripped off whole; it is partly filled with milk and the extremities being securely closed, it is suspended in any convenient place, by four ropes fastened to the skin of the legs.
C. W. Wilson, Picturesque Palestine, Sinai and Egypt, early 1880s
More end over end barrel churns
We had a very well made polished varnished wooden end-over-end barrel churn with small transparent glass windows to see if the butter was making, quite beautiful. The sound of the cream slopping and splashing within the churn actually changed note as the butter neared readiness so the churn could be stopped at just the right moment. A small quantity of cold water was then put in which further helped the butter granules to firm up, form and separate.
Blogger's memories of 1930s Orkney
You may like our new sister site Home Things Past where you'll find articles about antiques, vintage kitchen stuff, crafts, and other things to do with home life in the past. There's space for comments and discussion too. Please do take a look and add your thoughts. (Comments don't appear instantly.)
For sources please refer to the books page, and/or the excerpts quoted on the pages of this website, and note that many links lead to museum sites. Feel free to ask if you're looking for a specific reference - feedback is always welcome anyway. Unfortunately, it's not possible to help you with queries about prices or valuation.