Subscribe to RSS feed or get email updates.
Women of all Nations
Use the DALLI
For Household Use. -- To use it is the best, most simple, and most comfortable way of ironing. Independent of stove and gas, it can be used anywhere. Non-inflammable fuel without noxious fumes. No risk from fire; healthier and safer than any other iron.
For light work and travelling only, the "Dallinette," a smaller "Dalli". For general work use the "Dalli".
Price of the "Dalli" 6/- [six shillings] ; "Dallinette" 5/9 [five shillings and ninepence], "Dalli" fuel 1/9 [one shilling and ninepence] per box of 128 blocks. If any difficulty apply to THE "DALLI" SMOKELESS FUEL CO., 4-6 Moore Lane, London, E.C.
Ironing & advertising
Dalli box irons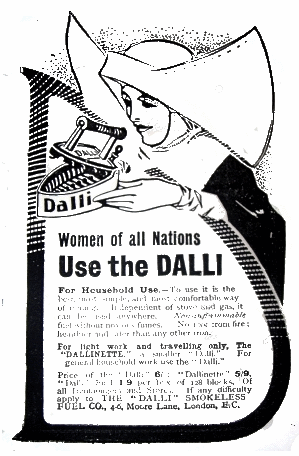 Were these irons being marketed to women or men? "Marriage Troubles Avoided - by using the Dalli box iron", says one ad. "Heat and work of the ironing day makes wife and servant irritable."
Another advertisement depends on a nun's veil. Not only does the nun represent purity, but her shining white, starched cornette is a symbol of perfect laundering. Surely it must have been pressed with a perfect iron: one that had never been sullied by a trace of soot or dust, that had never misbehaved in any way?
The Dalli company made "self-heating" irons with "smokeless fuel" briquettes to put in them instead of charcoal. A brochure in the late 1920s called it a "Patent new glowing fuel".
"Women of all Nations Use the Dalli", the ad said. Well, perhaps not all. Dalli started production in Germany in the last decade of the 19th century and their irons were sold in various countries up to the end of the 1930s.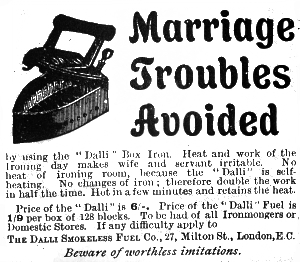 Electric irons were available in early 20th century Europe, and even more common in the USA, but many households went on using simple flat irons heated on a stove or by a fire.
Box irons like the Dalli, with or without their own brand of fuel smouldering inside, had various advantages. You needed only one - no need for a set at different stages of heating and re-heating. They were portable and, apparently, preserved the pure whiteness of freshly-laundered veils.
The text of the "ironing nun" advertisement is in the left-hand column.
See also:

12 September 2007
You may like our new sister site Home Things Past where you'll find articles about antiques, vintage kitchen stuff, crafts, and other things to do with home life in the past. There's space for comments and discussion too. Please do take a look and add your thoughts. (Comments don't appear instantly.)
For sources please refer to the books page, and/or the excerpts quoted on the pages of this website, and note that many links lead to museum sites. Feel free to ask if you're looking for a specific reference - feedback is always welcome anyway. Unfortunately, it's not possible to help you with queries about prices or valuation.